Junior Classroom
Junior Classroom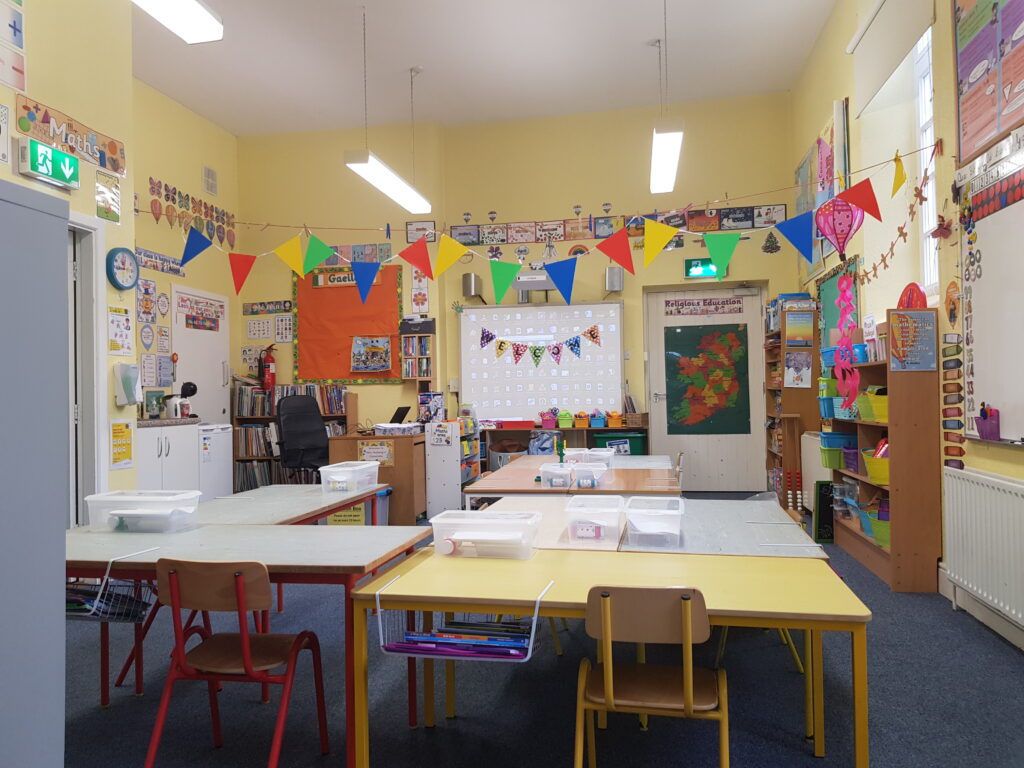 Junior Classmates 2023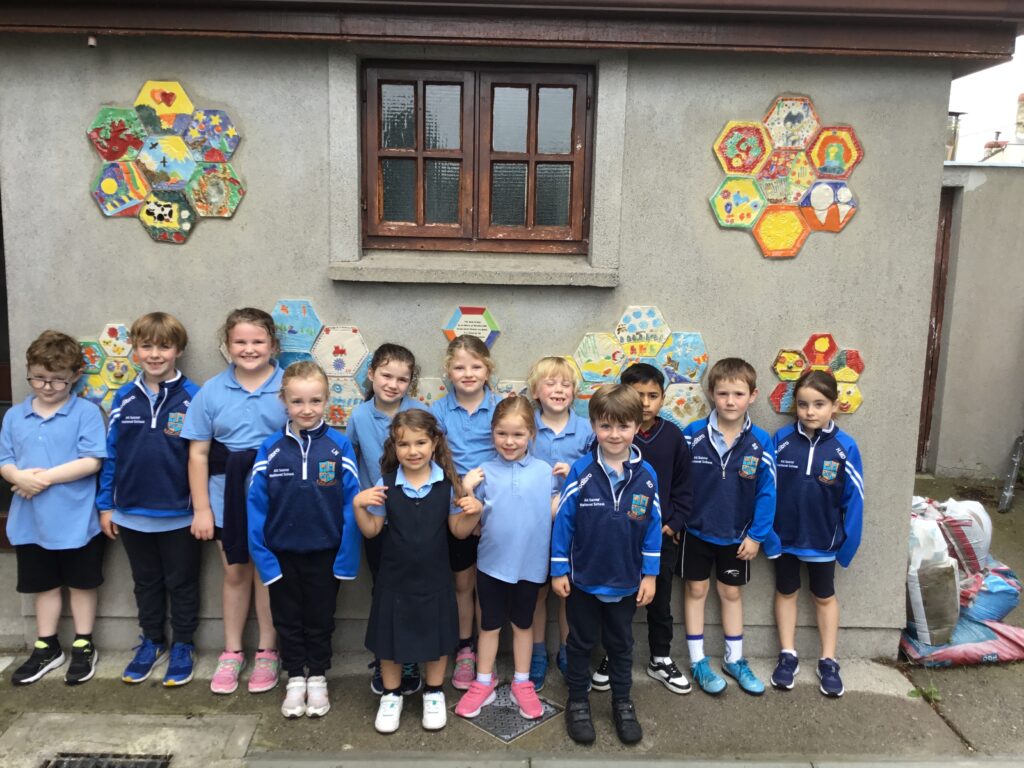 Literacy Stations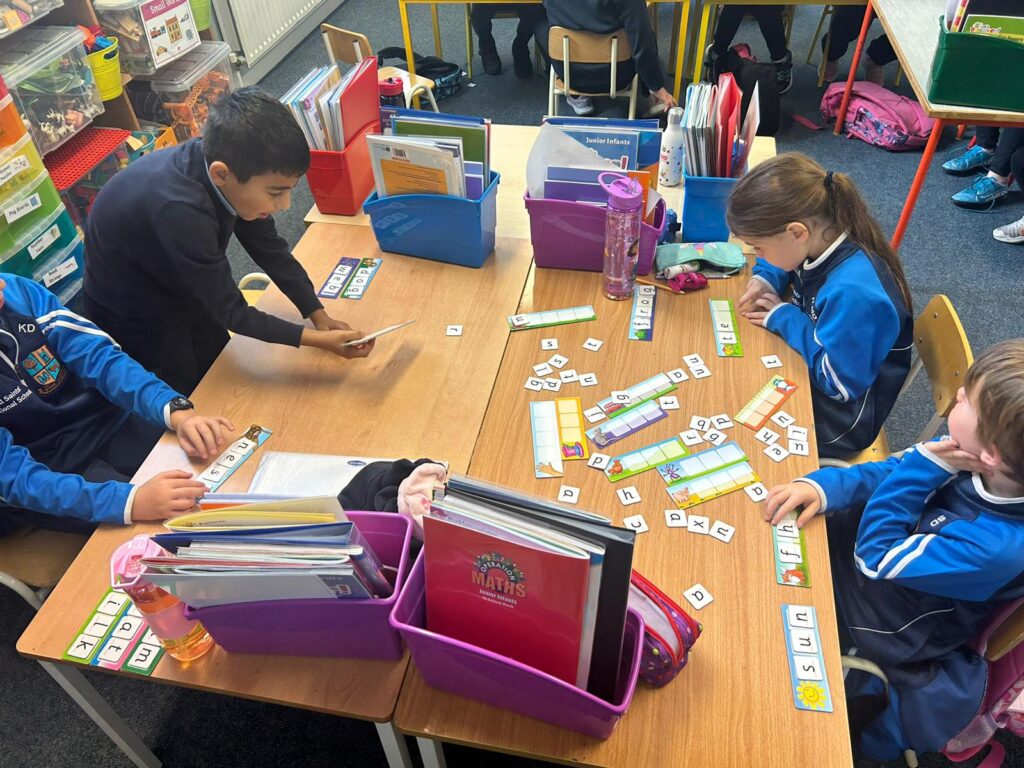 Be the I in KIND
Have a look at our fabulous art work. We want to remind everyone to be kind – to each other and to yourselves! Do your part in spreading kindness!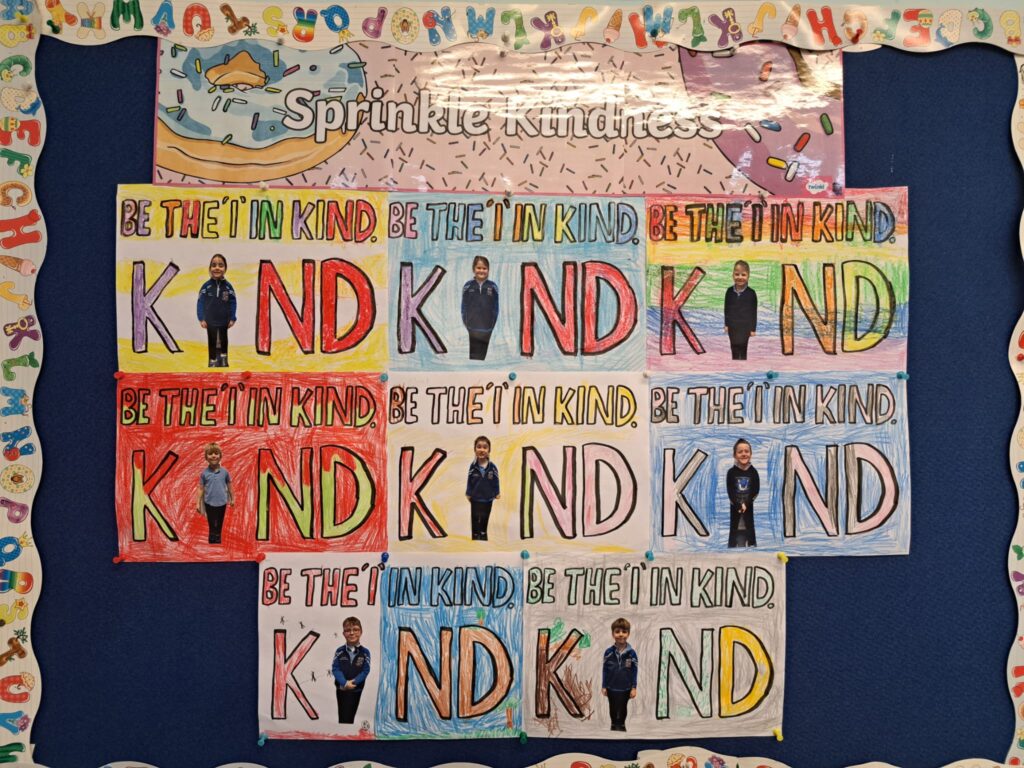 Fantastic Work
The Junior Room are learning about sheep and gardening. They also created characters for animation!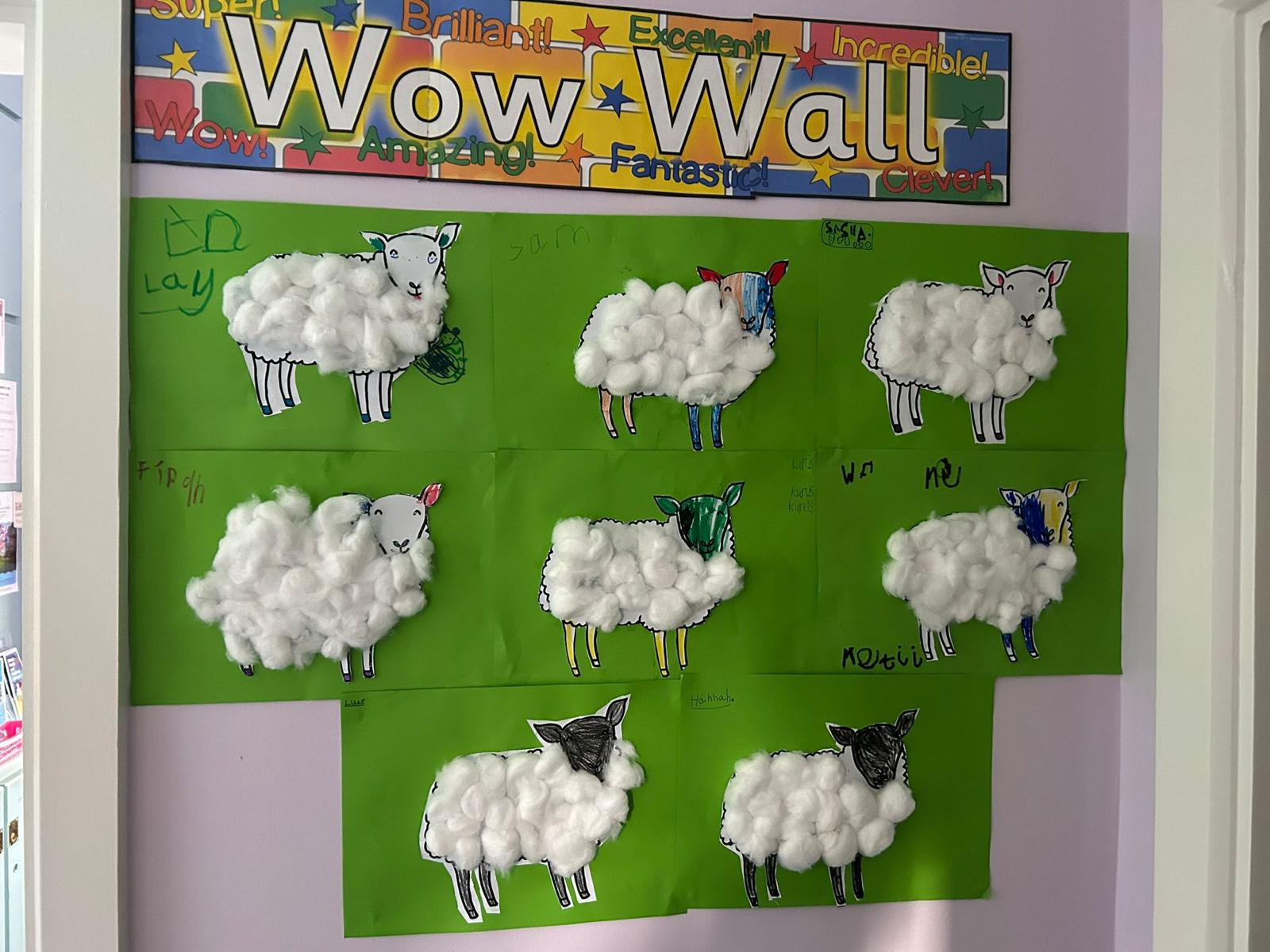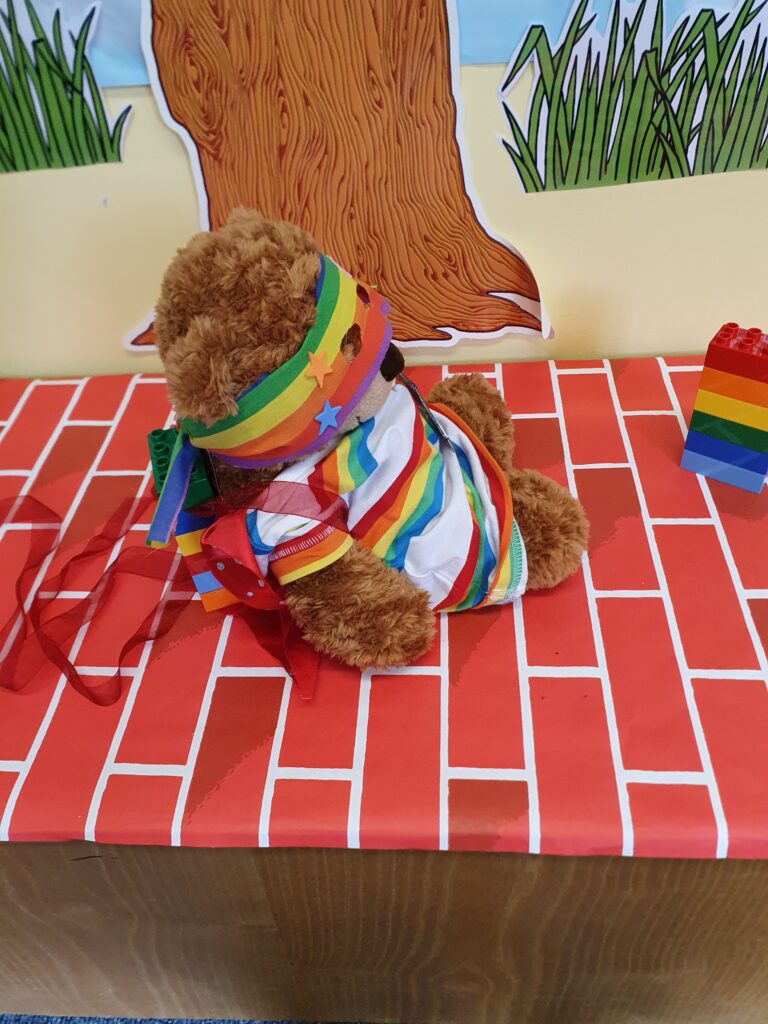 Meet Grobby! Grobby was delighted to welcome everyone back to school. He is our classroom teddy and he is named after each colour of his special superhero brick stack. This year we are delighted to participate in the Lego Six Bricks initiative. We are having lots of fun completing activities and tasks across the curriculum as we learn through play.
G -green – superpower = looking after the environment
R – red
O – orange
B – light blue
B – dark blue
Y – yellow
There was great excitement when we discovered Grobby has super powers! This week Grobby used his green superpower which represents the environment. Grobby's superhero costume is made of recycled materials. We are designing costumes for Grobby so don't forget to check back in and see our designs. Grobby loves looking after the environment and he has been helping us to learn ways we can help to protect the world around us.
2022/2023 Academic Year
The month of September is always a busy start to the school year. Our themes for the month are 'Autumn' and 'All About Me'. The children really enjoyed reading the story 'Marmalade' by David Walliams. It is a story about the importance of belonging and a sense of community. We drew pictures of our favourite part of the story and coloured a picture of Marmalade.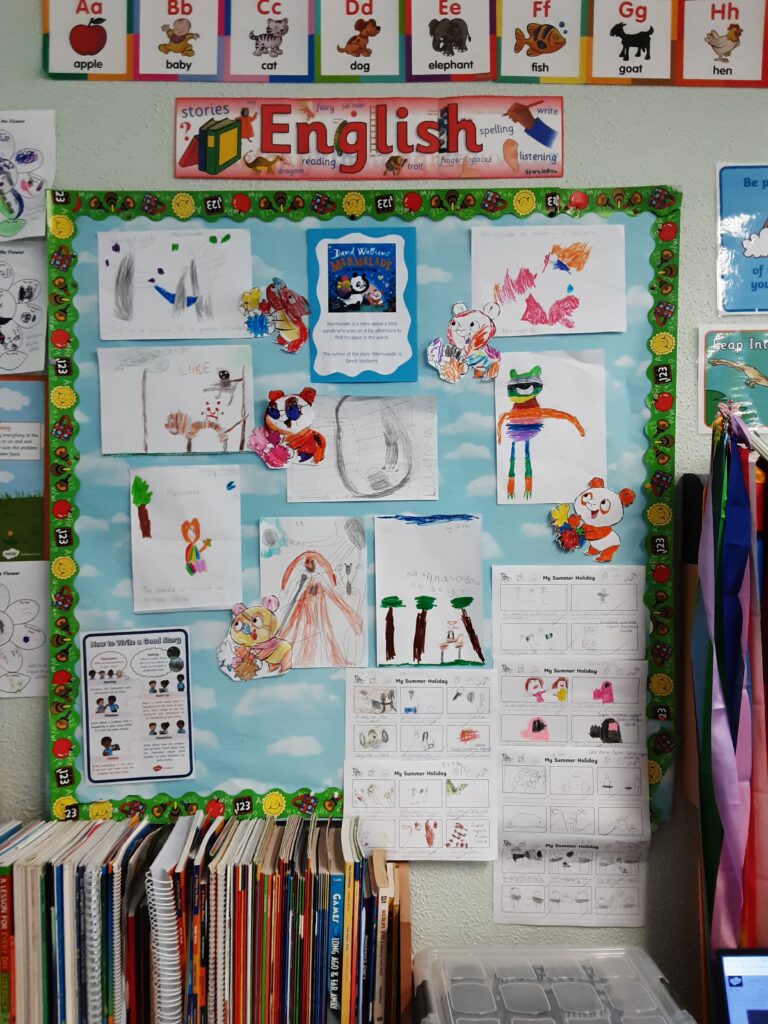 We decorated the letters of our name in Art and designed kites, balloons and flowers to share some information about ourselves with our friends. We explored our future selves after reading the Dr. Seuss story 'Oh the Places You'll Go!'.
Welcome to the junior classroom! It is fantastic to see the classrooms filled with enthusiastic learners. It is going to be an exciting year ahead with lots of initiatives to enjoy. We welcomed two wonderful Junior Infant pupils into our classroom. We look forward to getting to know our new friends and we hope they will be very happy in All Saints' National School.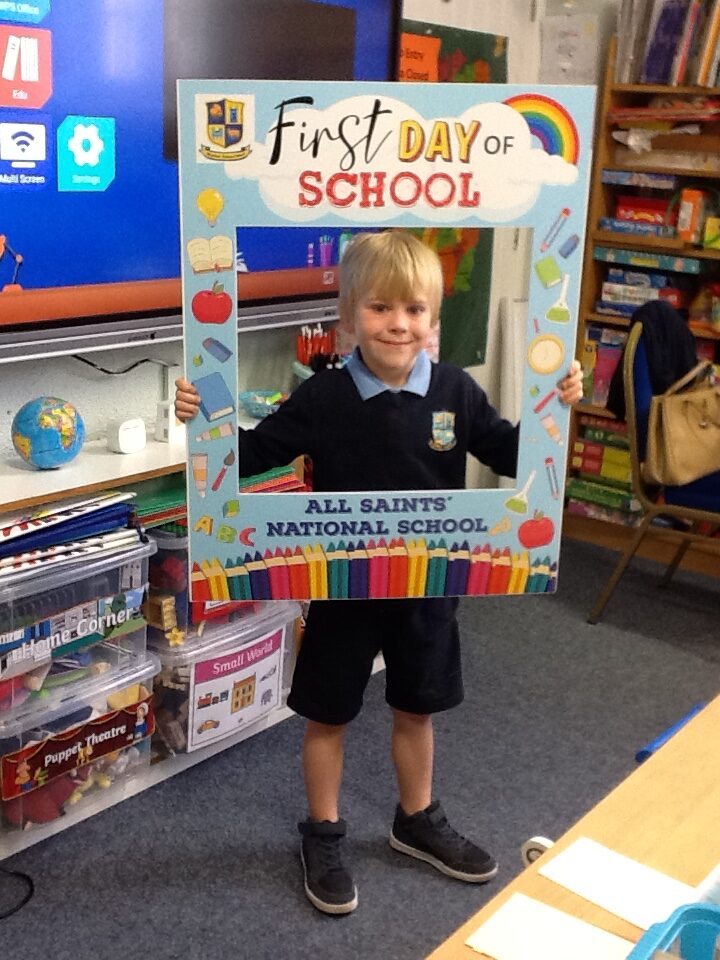 2021/2022 Academic Year
This month we have been learning all about our homes. We worked as architects designing houses. We learned the names of the different rooms in a house in Gaeilge. The children created lovely house pictures.
We celebrated Space Week. It was great fun. We enjoyed a virtual tour of the international space station (ISS). The children enjoyed seeing the cabins on board the space station. We created fabulous space collages and we used 2D shapes to build spaceships. We also designed rockets using bricks.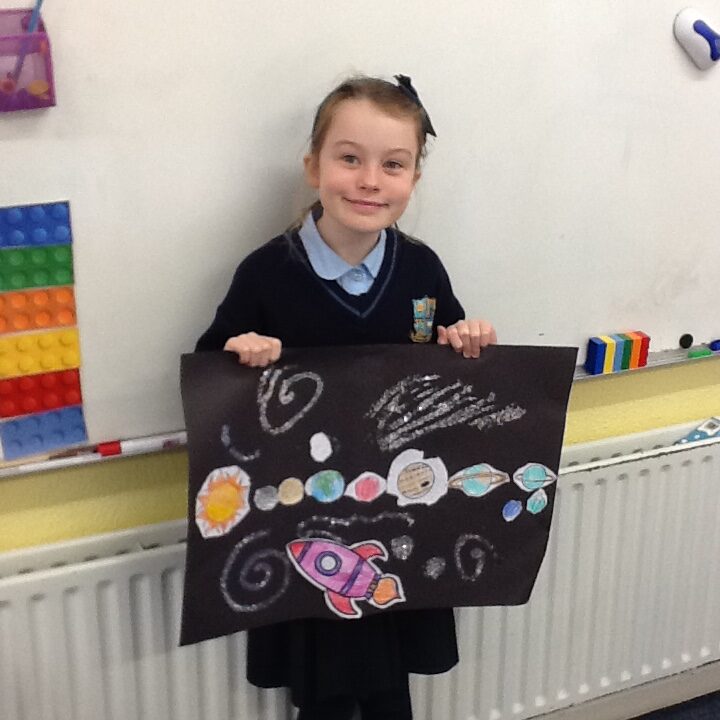 Maths Week is great fun. We are playing lots of interactive games and problem solving in our classroom
We are all delighted to return to school and we are all looking forward to the year ahead. We have had a busy start to our new school year and everyone has settled back to school very well.
Each week a pupil in our classroom is selected as our Student of the Week. We are very proud of our pupils and their fantastic achievements.
The children are learning all about autumn. Autumn is a very busy time for farmers during the harvest season. We read a story about a hedgehog called Harriet who was busy preparing to hibernate. She made lots of new friends in the story and we made her a lovely cosy bed of leaves and a colourful scarf. We have been busy spotting signs of autumn and learning all about autumn colours. Our classroom tree has welcomed some autumn leaves and we painted beautiful pictures using different textures.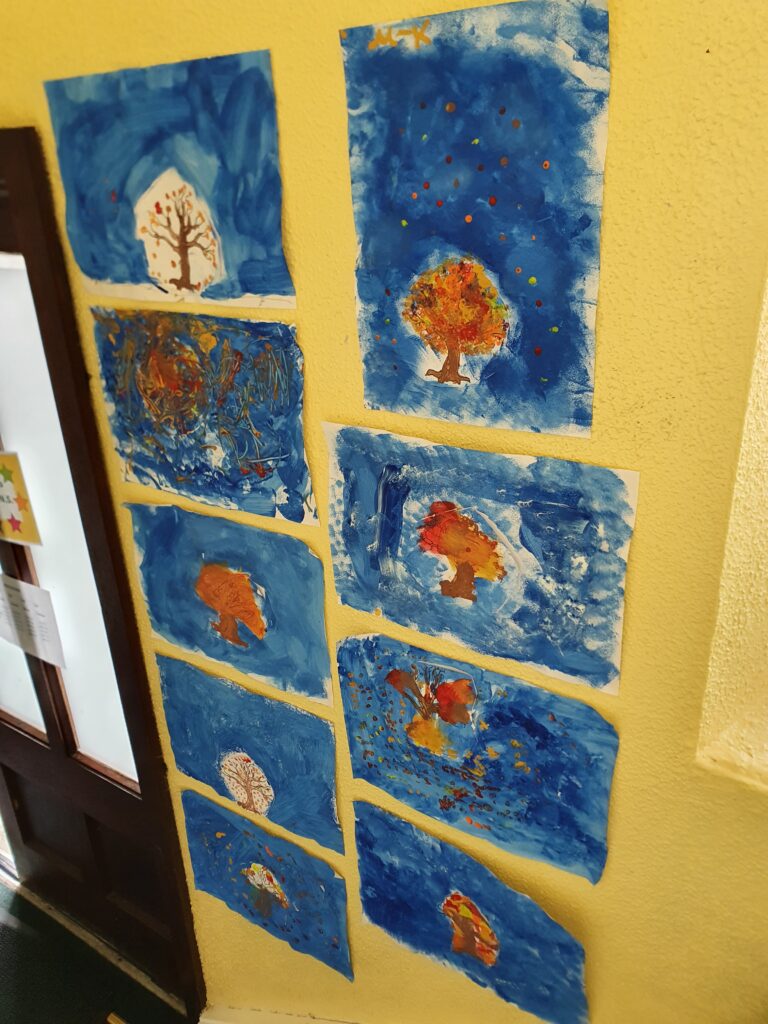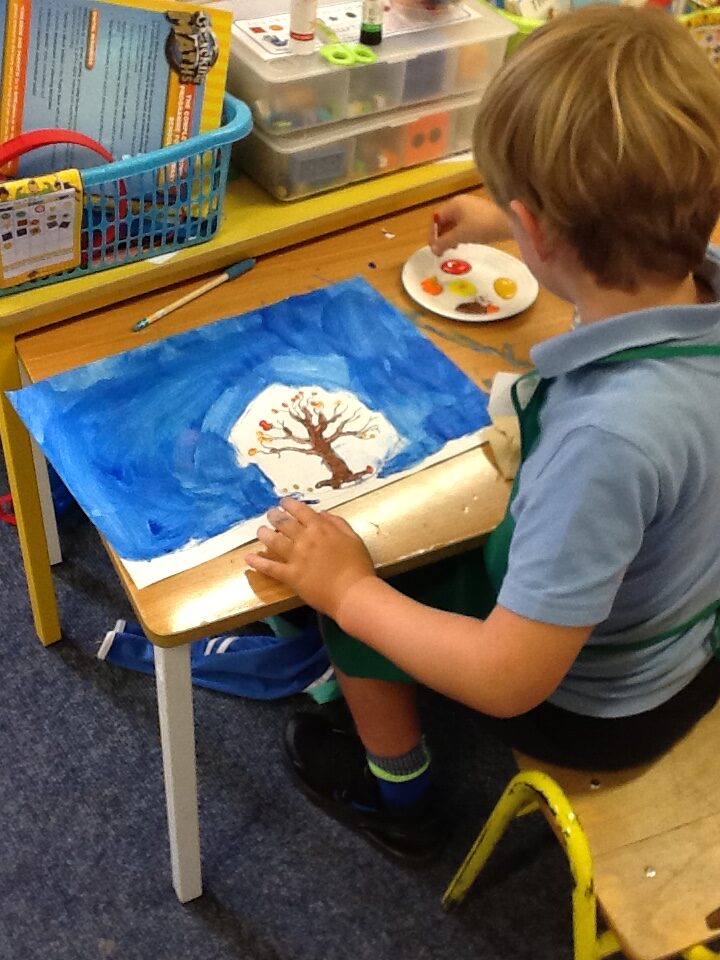 We have been learning all about our native trees. We enjoyed a nature walk around the school grounds to spot signs of autumn. The pupils learned to recognise different leaves and flowers. It was lots of fun.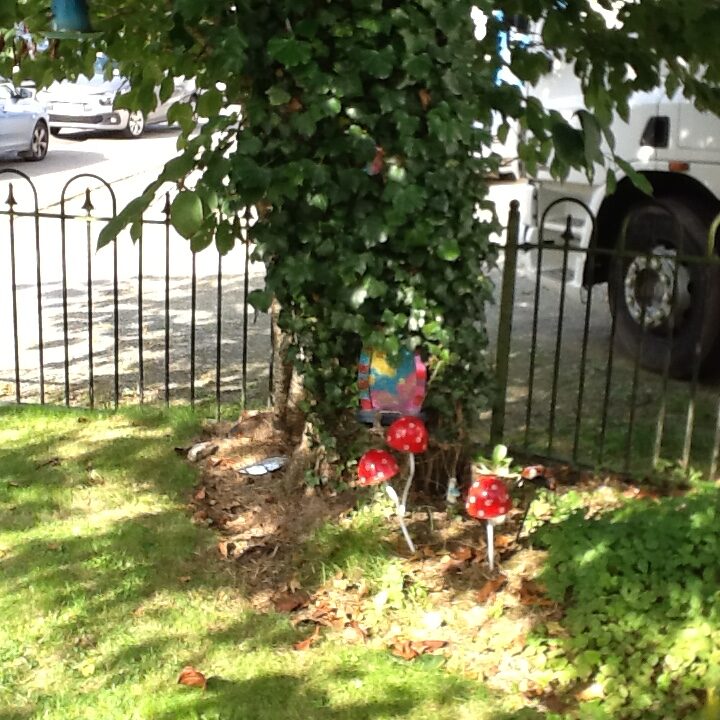 We have been learning about sound, how it is made and how it travels. It was very interesting. We made some string telephones.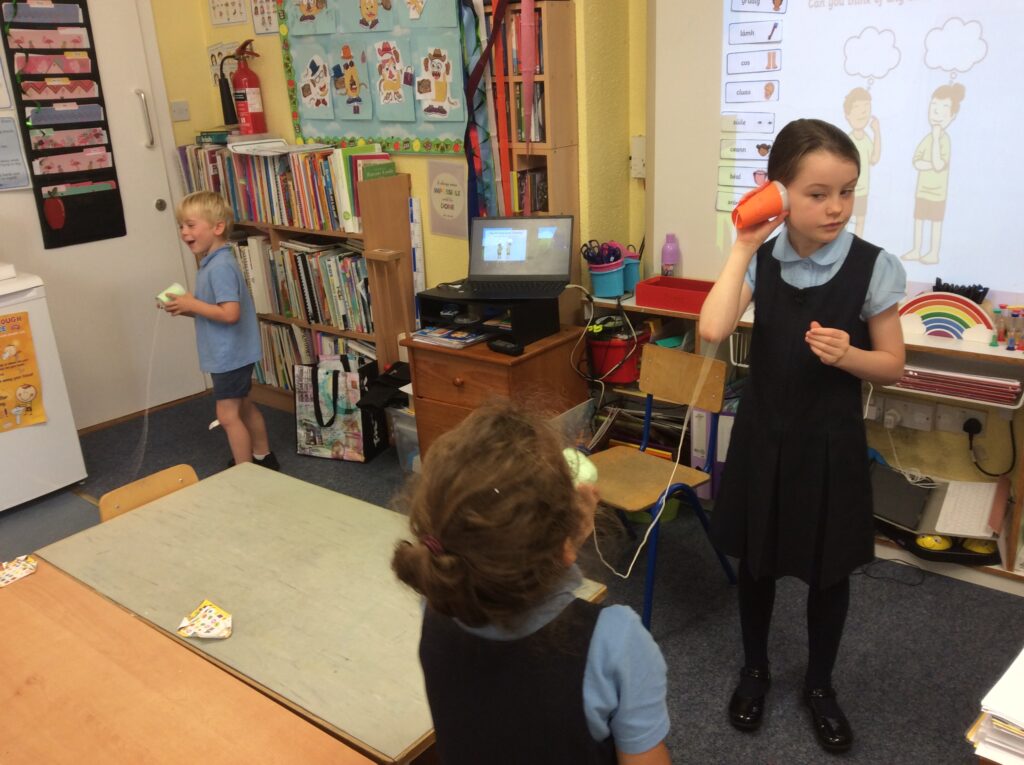 We are very excited to participate in the Six Bricks for Education initiative. We are enjoying using our Lego Duplo bricks to complete interactive activities to learn through play. The activities are integrated across the curricular areas. Our class teddy bear is called Grobby. His name helps us to remember the order of colours in our stack of bricks – G-green, R-red, O-orange, B-light blue, B-dark blue & Y-yellow. Grobby takes care of the environment and he has special super powers. Don't forget to check back next month as we will be designing and creating his superhero costume!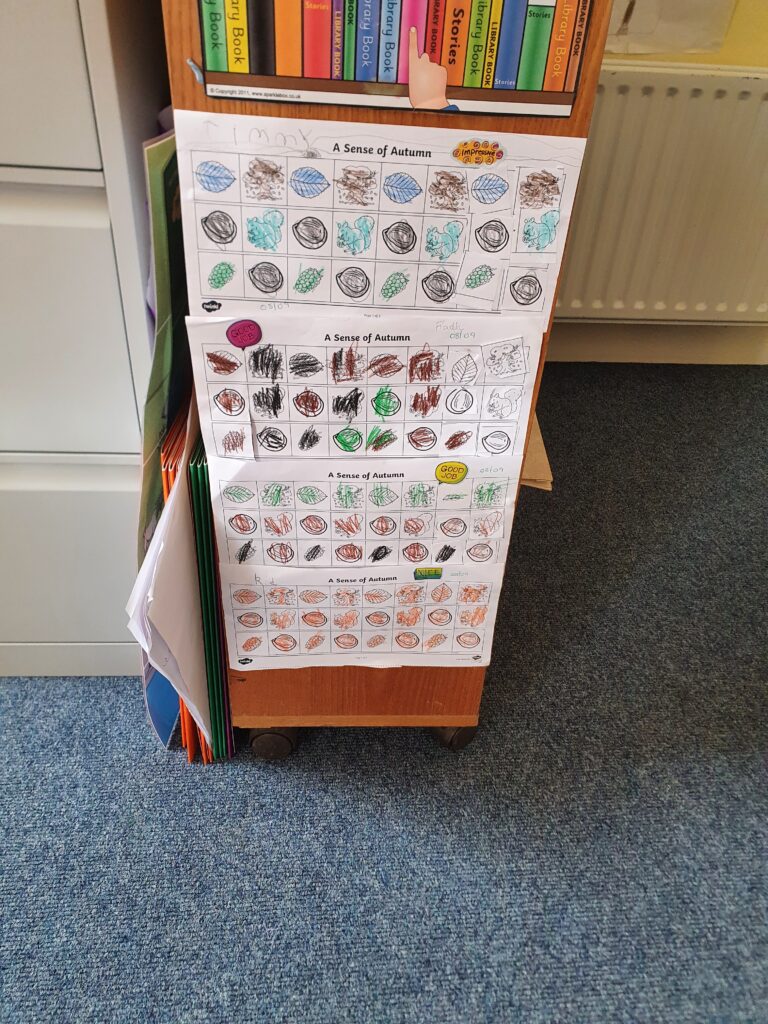 We discussed things we are grateful for during our R.E. lessons. The children wrote lovely thank you prayers expressing their gratitude for their family, friends, school, the food we eat and the world around us. We enjoyed listening to the story of Noah's Ark and we completed a cutting activity to build an ark.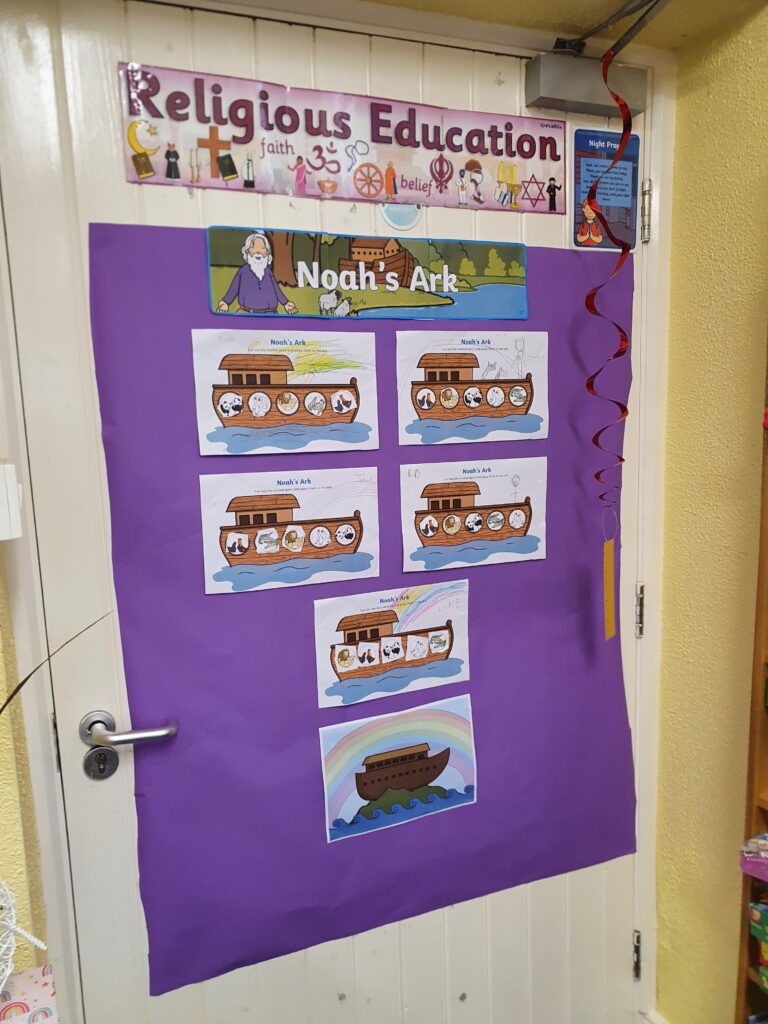 The pupils love using our movement scarves and dance ribbons. Our Junior Infant pupils have been sorting and matching items according to colour and size. They have also been creating patterns and pictures using their cutting skills. The junior pupils enjoyed coding with our school robots called Beebots.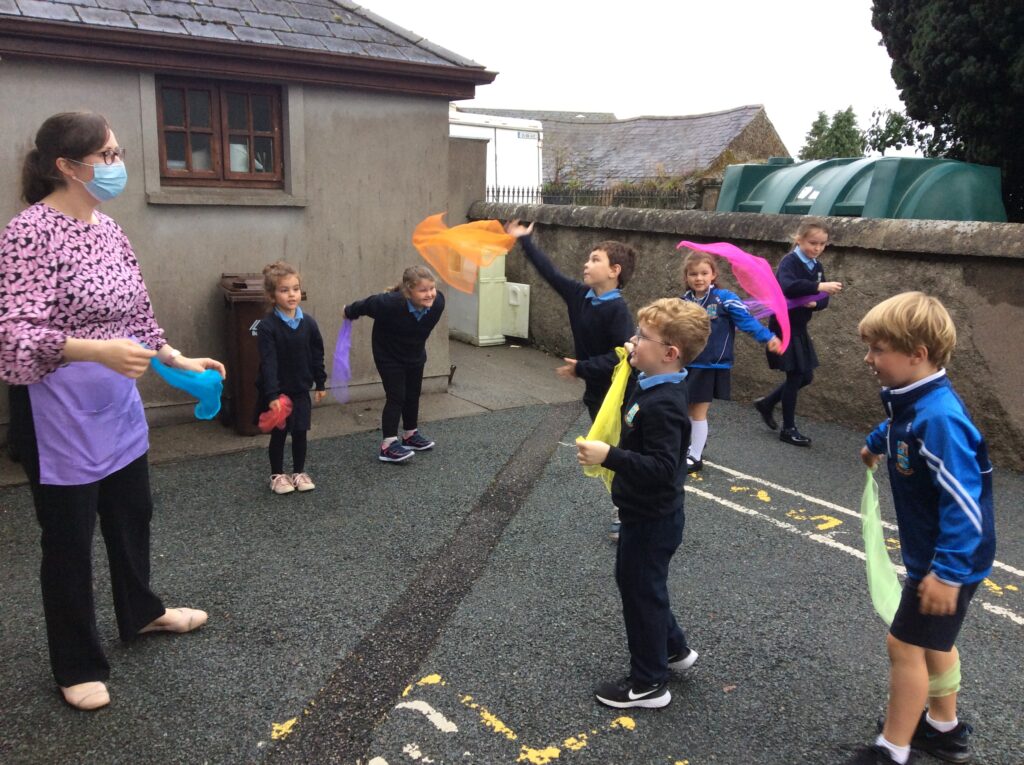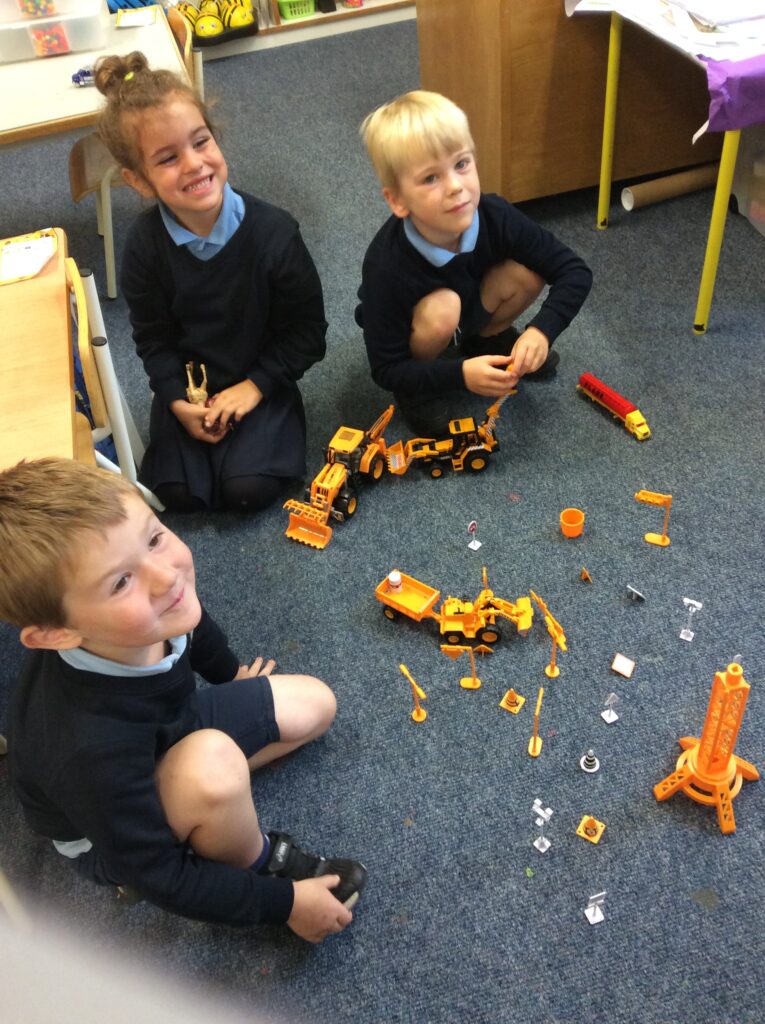 We enjoyed the story 'We're Going on a Bear Hunt' by Michael Rosen. We enjoyed some yoga and drama activities based on the story. We also created maps and sequenced the story. The children completed a listening and responding activity based on the song version of the story. It was great fun.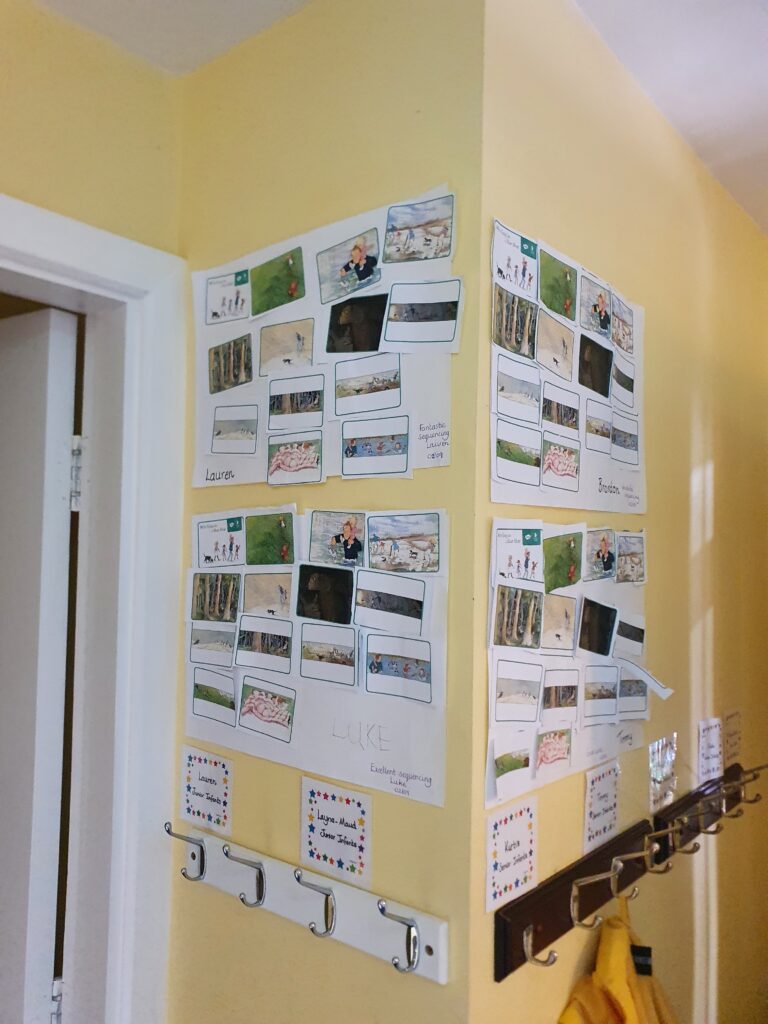 We have started a project about ourselves. We are discussing how we have changed since we were babies and exploring our lives in History. It is lovely to learn all about each other.
We love playing with our new mud kitchen in the playground. We also had fun with chalk redesigning our school playground. We designed a new playground with a road and Tayto Park! It was a fun way to spend a break. Our willow dome is growing very tall! We are enjoying playing together. In P.E. we have been playing tennis and GAA. We love the Cowboys and Indians game Conor has been playing with us.
2020-2021
Engineers Week
We have some budding engineers in the making!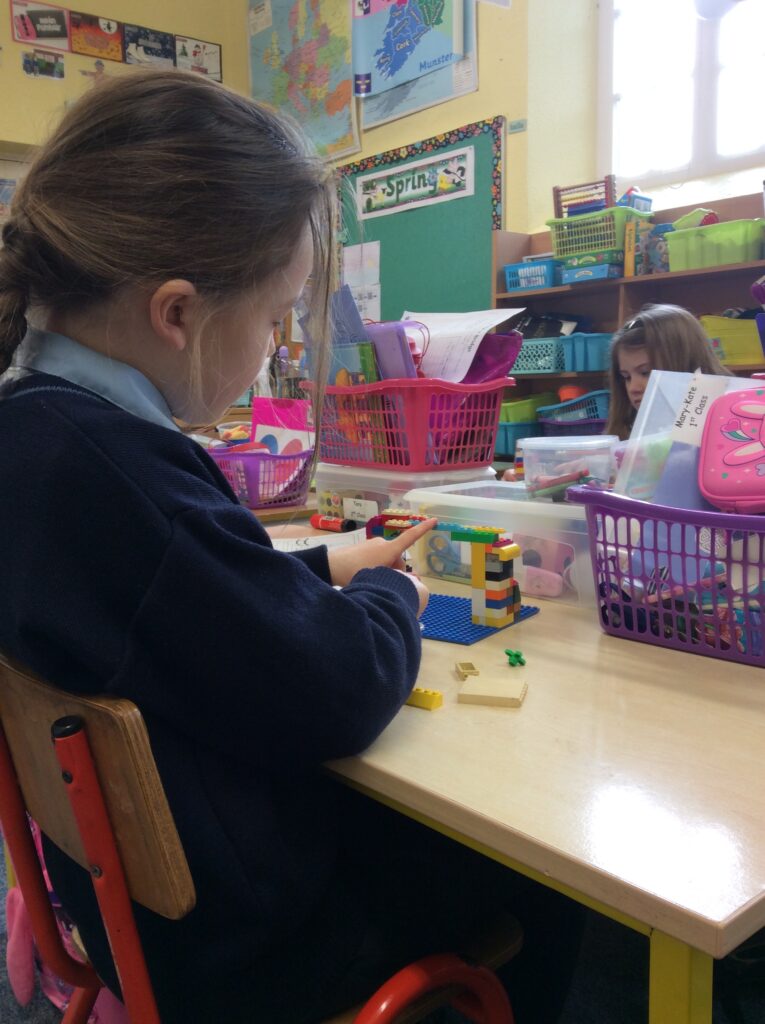 Spring Walk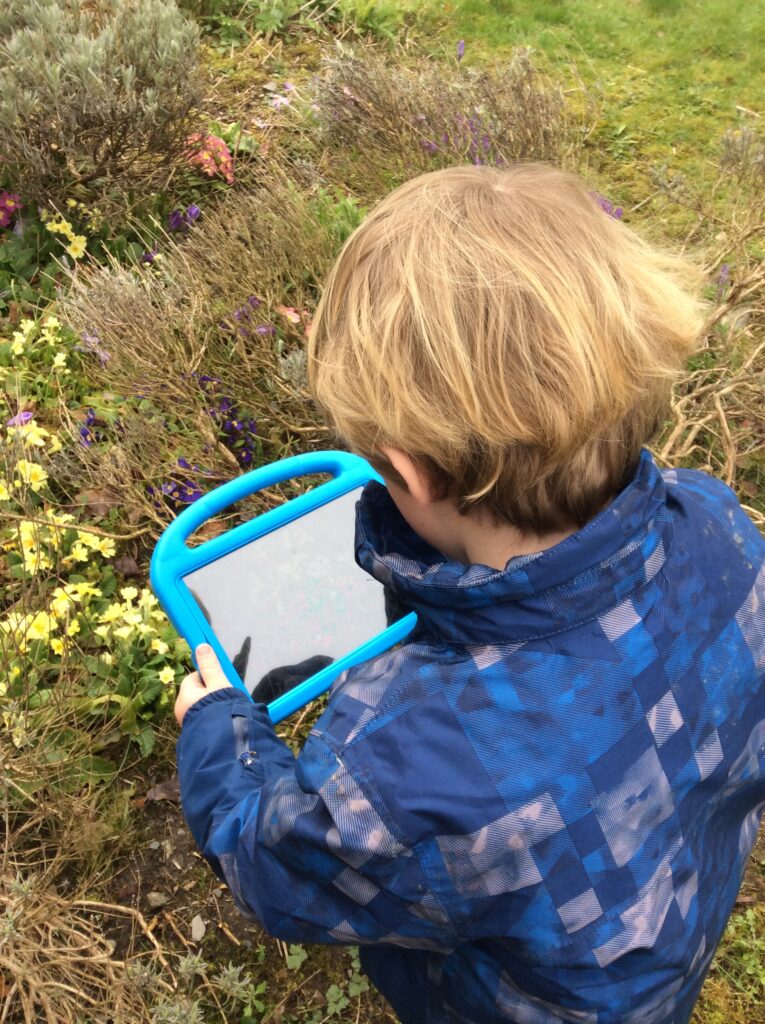 Christmas Fun
This month we are looking forward to learning all about Christmas. We have been learning about the birth of baby Jesus. Take a look at our beautiful Nativity scene some of our pupils created last year.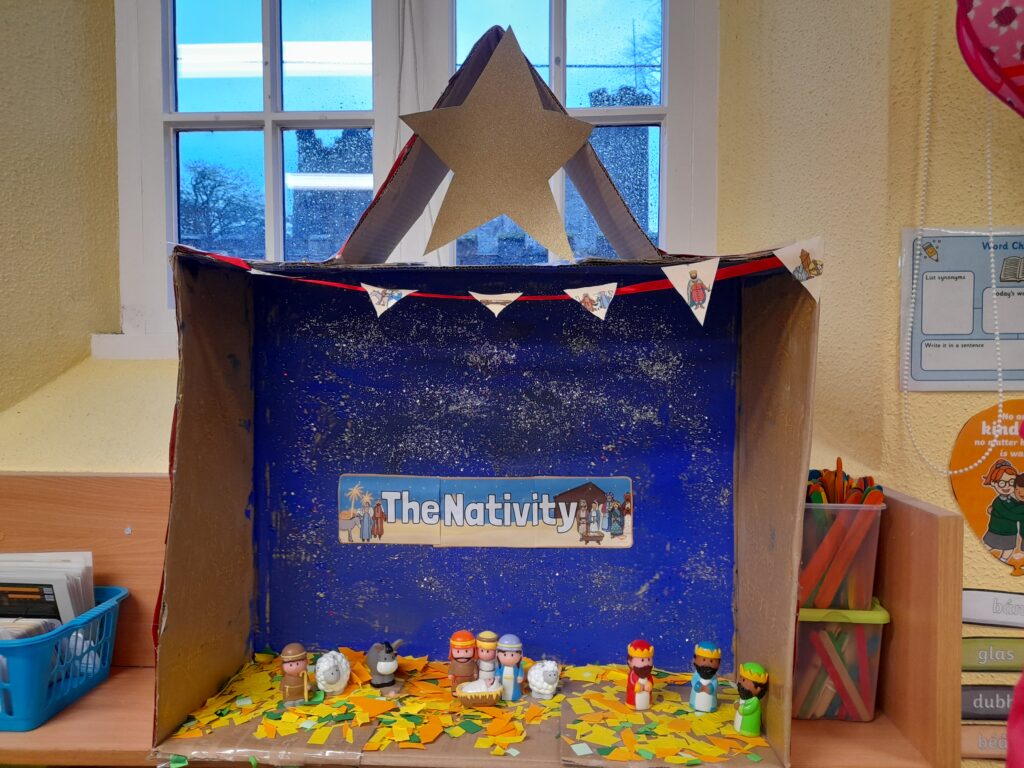 We are also exploring how people around the world celebrate Christmas and we are learning all about Christmas traditions. We have created some festive displays in our classroom and we really enjoyed decorating our Christmas tree.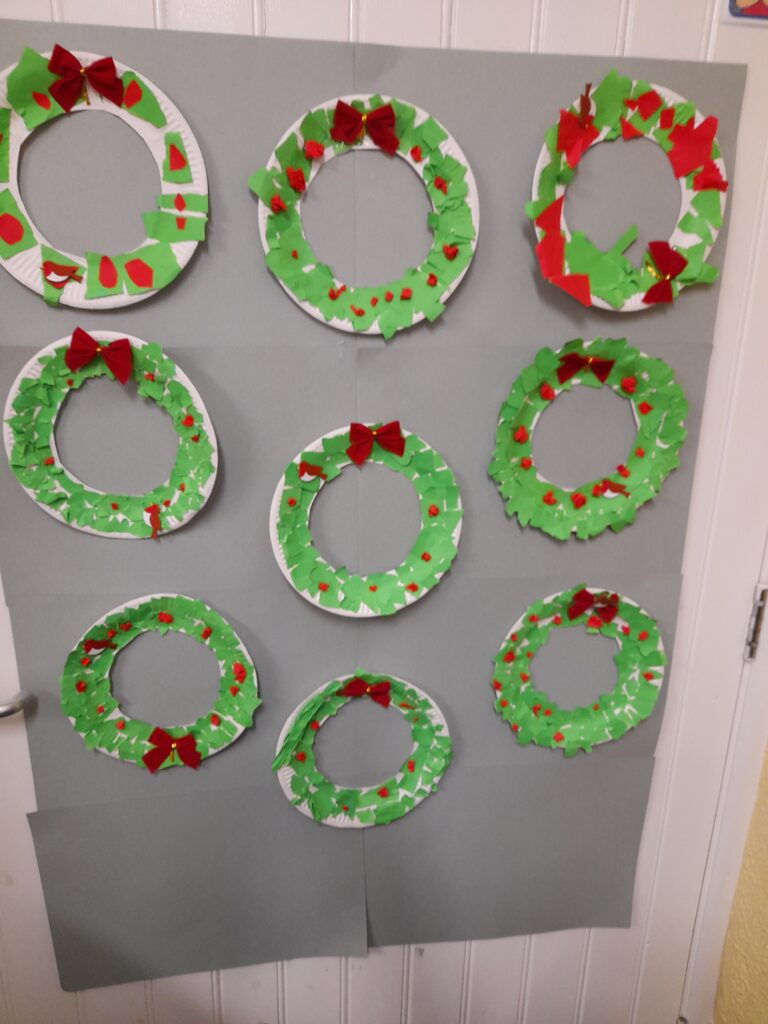 Toy Show Celebrations
There was great excitement in our classroom as we prepared to enjoy the Toy Show! We learned all about the history of the show and we enjoyed watching video clips from the show down through the years. We discussed old and new toys. We held our own show in the classroom as we presented a report on some of our favourite toys. We also made toys using our bricks. It was lots of fun.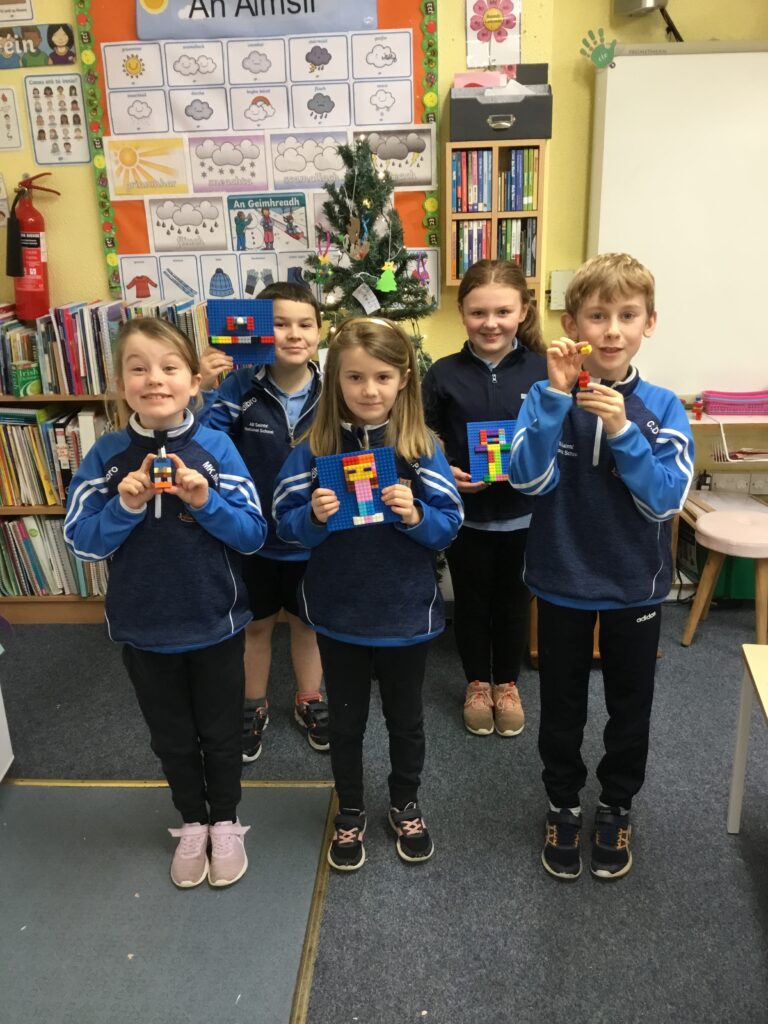 S.T.E.M. Challenge
This week we created a marble maze. We thoroughly enjoyed the challenge. Take a look at our designs. We used lego bases and bricks to create the maze. It was lots of fun!
I'm a Dingle Dangle Scarecrow
We sang the song 'I'm a Dingle Dangle Scarecrow' and used the lyrics as inspiration to create scarecrow pictures. We created autumnal backgrounds for our scarecrows and added lots of detail and colour.
Autumn
Autumn is a very colourful season. We enjoyed learning all about the different seasons. We took photographs to create an autumn collage. We also used crayons to make leaf rubbings and we designed 3D spiky hedgehogs. We collected autumn leaves to identify. First and Second Class wrote poems and we learned all about hibernation, migration and nocturnal animals. Our nature table is full of colour.
Skeletons
Last month we learned the names of the different bones in the human body. Did you know a newborn baby has more bones than an adult? Their bones fuse as they grow and develop. We joined the different bones together to make giant skeletons!
Welcome
We extended a warm welcome to four Junior Infant pupils and their families this year.